Spend a little now… save a lot later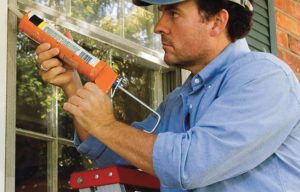 Fall is the perfect time to do some maintenance on your home's exterior. Warm weather and the higher humidity of summer cause materials to shift and expand, then as the weather cools and the humidity decreases the process reverses. This can leave your home with areas that water, pests and rot can penetrate. Now is the time to act.
As Winter Approaches
Paint, caulk, shingles, wood, rubber, vinyl and siding are all affected by high temperature and UV radiation from the sun. As a result, the exterior envelope of your home may not be as "tight" as it was in the spring. As weather gets cooler, materials tend to shrink and harden. Air is drier, resulting in further shrinkage as materials lose moisture. Rubber seals around doors and windows become brittle. Caulk separates from siding and trim, allowing outdoor air and damaging moisture to enter.
The wood around doors and windows can rot. High moisture levels encourage insects and termites to make your home their home. Hidden mold growth on wood, drywall and other porous surfaces causes millions of dollars in structural damage every year. Moisture is the primary cause. You can take a few easy steps to ensure your home is in good shape as winter approaches. Following is a list of things that you can check out and another list the ambitious homeowner can do, or which you can hire an inspector to check out for you.
Easy Fall Checkpoints
As fall approaches take a slow walk around your house and check the following:
• Visually check out all windows and doors. Look at the wood trim to ensure it is not rotted or pulling away. Check the caulk to ensure it is flexible and well- sealed. Pound in loose trim nails and re-caulk if necessary. Remove brittle, deteriorated caulk before resealing.
• Check weather stripping to ensure pliability and good seal. If you can see daylight around the door or window then you may need to install new weather stripping.
• Look around windows, doors, soffits and other areas for water intrusion. If you see dark stains or rotted areas you may have a leak and want to call a professional. After the leak is fixed Spend a Little Now you can replace damaged wood. Or, check out this great product called "Git Rot", available at marine centers, for repairing rotted wood.
• If you have a basement check it for leaks by touching the wall, especially where it meets the floor. Sometimes, minor water issues can be corrected with sealing paint.
Getting Professional Help
If you are a very handy homeowner then do the following checks as well. Otherwise, hire a pro to:
• Have your gutters cleaned and checked. Ensure all downspouts are directed away from your house. If you don't have gutters, consider having seamless gutters installed; they are actually quite inexpensive compared to other home improvements.
• Have the roof inspected. Many roofing companies will do this for free, just be sure to pick a reputable one. Ensure they look for gaps and issues around the chimney, plumbing stacks and any other roof penetrations.
• If you have a crawl space under your home, hire a professional to crawl under it once a year and check it out for plumbing leaks, structure issues, and animal infestation.
The old saying says that an ounce of prevention is worth a pound of cure. It can save you a ton of money in the long run as well