How To Prevent Water Damage & Mold After Pipes Burst?
The positive news for many homeowners is that most insurance policies will cover unexpected burst pipes and any resulting water damage.
If you detect a leak in your home, the first thing that you need to do is turn off the water supply immediately. Dry the area quickly to reduce further damage and to slow the growth of mold. Move all wet items to a dry room or an area with fresh air. Pull up all wet carpets, rugs and padding. Consider using a wet vacuum to suck up as much water as possible.  Place a few fans around the wet area to help dry the area more quickly. It is important to call a plumber to fix the broken pipe, and then you may also need a professional mold and water remediation company to ensure all mold is removed.
Warning Signs Of Frozen or Burst Pipes In Your Home
Low Water Pressure
Damp Sections Of Drywall, Ceilings, or Carpet
Frost Build-Up On Pipes
Strange Smells Or Odors Coming From Faucets Or Drains
How To Prevent Burst Pipes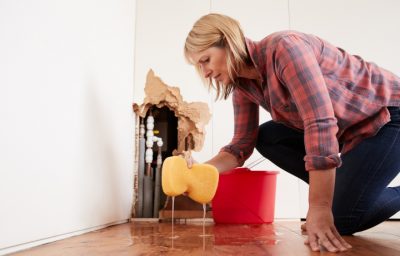 Freezing temperatures are the most common reason for burst pipes. When water freezes, it expands and increase the pressure inside the pipes. The pressure will increase until the pipes burst. If you have a sprinkler system or swimming pool, drain it per the manufacturer's instructions. Remove and store garden hoses and turn off the water valves to outdoor faucets. Check for any exposed pipes that are in attics, garages, under bathrooms and sinks and insulate them. Watch the weather during the winter months to prepare for freezing temperatures and follow local authorities safety recommendations.
Clean Pro Restoration Services
Whatever the source of the water damage, the impact on the ecology within the affected structure is important for healthy indoor conditions. Biological growth is always a great concern in the water restoration industry. Wet structure paired with favorable temperatures for microorganisms can initiate microbial amplification. The importance of a timely response to any water damage is necessary to prevent secondary damage, to stop amplification of microorganisms, and to minimize potential health effects.
Due to the level of expertise required to properly dry a structure, educated professionals should always be selected to handle any water restoration. Our Clean Pro Restoration technicians are certified and experienced in microbiology, biocide chemistry, inspection techniques, psychrometry, thermodynamics, building science, and evaporation and dehumidification theory. Along with our extensive training requirements, we deploy state of the art equipment to dry residential or commercial structure. Learn more – HERE.

For further information about water damage restoration or mold remediation services, call Clean Pro Cleaning & Restoration on the Southshore at (504) 443-0009; on the Northshore at (985) 674-7778; on the Westbank at (504) 394-1116; in Baton Rouge at (225) 389-0202; or toll-free at (800) 377-9597. Email inquiries to service@cleanprocarpet.com.
Follow us on social media!