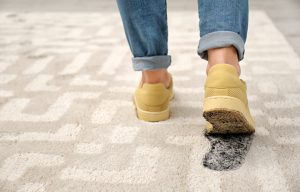 Do you have a new carpet or rug and would like to protect it from stains as much as possible? There are a few things you can do to make sure your new carpet stays looking great longer. If you start out right when you get your new carpet and get into some good routines, your carpet will look great for a long time.
What You Can Do To Protect Your New Carpet Or Rug
If you leave your shoes by the door, your carpet will thank you. Shoes can bring all kinds of dirt into your home. When walking on your carpet or rug with dirty shoes, you will stain your carpet and even worse, you may not necessarily know what kind of stains you are dealing with. From dirt and oil to paint and even animal waste, there is really no telling what is collecting at the bottom of your shoes. If you don't know what caused a stain, it makes it even more difficult to remove it.
If you don't want to take off your shoes and leave them by the door, consider getting mats. This way you can wipe the bottoms of your shoes and prevent some dirt and dust from getting into your carpets. This is especially important when it is wet outside. Mud and water will be soaked up by the mat and not by your carpet.
This is probably not going to happen, but try to keep food and drinks away from your carpet. Only allowing food and drinks in the kitchen and dining areas will protect your carpets from all kinds of stains. If you have little kids, giving them sippy cups or cups with lids will help with accidental spills.
Another way to protect your carpet is by placing a rug on top of the carpet, especially in high traffic areas.
For further information about carpet, floor and rug cleaning as well as restoration services, call Clean Pro Cleaning & Restoration on the Southshore at (504) 443-0009; on the Northshore at (985) 674-7778; on the Westbank at (504) 394-1116; in Baton Rouge at (225) 389-0202; or toll-free at (800) 377-9597. Email inquiries to service@cleanprocarpet.com.
Follow us on social media!