Food Spills on Carpet: A Few Do's and Don'ts
You vacuum twice a week, like clockwork. You ask everyone to take their shoes off at the door, leave your muddy shoes on the garage stoop, and toss your throw rugs in the washer every weekend. You do your level best to keep dirt outside where it belongs and pollutants inside your home to a minimum.
But no family is perfect.
Despite your best efforts at keeping spaghetti in the kitchen and dirt in the garden, no matter how careful you are, sooner or later it will happen. Someone will spill food or drink onto your carpet. You may see it the second it happens, or you may not spot it until it has dried and set. Either way, you will panic. You will fear that your beautiful carpet is ruined forever.
And you will wonder what to do. What you need to know is that whether a simple spill comes out or becomes a permanent stain depends just as much on what you don't do as what you do. Here are a few recommendations to help increase your chances of a successful stain treating outcome:
DO NOT rub or scrub the carpet with a towel or brush. This will distort the face yarns and cause permanent damage to the surface, which will only amplify the look of any stain.
DO pick up any chunks and then remove the excess liquid by gently blotting or scraping up as much of the spill as you can. If it is a liquid, such as coffee, wine or soda, use a white towel and blot up as much of the spill as possible. Keep blotting until your towel stops absorbing liquid.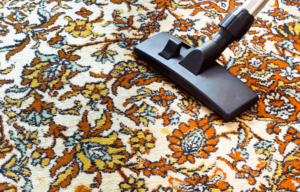 DO NOT
spread the spot. When scraping up thick spills, such as spaghetti sauce, work gently from the outside edges of the spot toward the middle. Scrape up as much as possible before using any spot cleaners.
DO
call a reputable
professional
cleaning
company as soon as possible. Experienced carpet cleaners will have a specialty spotter for just about any type of spill. In addition, they will have the equipment to promptly remove the stain and flush it with fresh water. Prompt
professional
attention is your best chance to remove spills without damaging the color or texture of your carpet.
DO NOT
use
cleaning
agents from the grocery store. Most often, these products are low quality and ineffective. But even high quality products still need to be used carefully. A
cleaning
product must be carefully chosen for the type of spot and the kind of fabric that your carpet is made from. If you try to use the wrong product, or use it incorrectly, you may make the spill more difficult or  even impossible for even the most experienced
professional
to remove.
While nobody can guarantee that every spot and stain will come out, by following these tips you will make
cleaning
up spots and spills much easier. You will be more likely to remove the stain completely, leaving your carpet looking good and helping your carpet to look good for years to com

For further information about carpet, floor and rug cleaning as well as restoration services, call Clean Pro Cleaning & Restoration on the Southshore at (504) 443-0009; on the Northshore at (985) 674-7778; on the Westbank at (504) 394-1116; in Baton Rouge at (225) 389-0202; or toll-free at (800) 377-9597. Email inquiries to service@cleanprocarpet.com.
Follow us on social media!