Are you ready for a home refresh? Spring is finally here! Now is an ideal time to set goals and optimize your home, whether you're tackling important maintenance tasks, adding comforting elements to cozy up your space, or getting organized.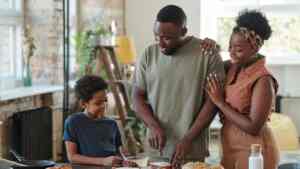 In 2022, home improvements that provide long-term benefits are top of mind for homeowners. Here are 3 big-impact improvements to keep your home in tip-top shape and bring you peace of mind. Minimize Clutter and Increase Safety People are multitasking at home more than ever, which can often lead to increased clutter. Disorganization can be more than just unsightly mess; it can be a safety hazard. Thoughtful organization improves functionality, saves space and keeps areas clutter-free to reduce the chance of injury. Spaces where organization can have a huge impact include closets, mudrooms, the garage, the home office, pantry and laundry room.
By utilizing high-quality installed organization systems, you can reclaim control of your office, keep things tidy and efficient in your laundry room, and easily spot missing ingredients in your new kitchen pantry. Decluttering and organizing your home can also help to reduce stress and allow you to streamline daily tasks. For a custom solution that meets all your storage needs and maintains your design aesthetic, consider professional organization. There are pros in your area that can help you design and build your own custom closet or storage solution with ease and convenience.
Cut Energy Costs and Your Car-bon Footprint:
Crossing routine maintenance tasks off your to-do list sooner rather than later not only enhances the com-fort, safety and functionality of your home, but it can also increase your home's value, reducing your energy consumption and saving you money.
Each spring and fall before you start using your air conditioner, furnace or other heating and cooling systems, you should get a tune-up to prepare your HVAC system for the seasons. While some homes might be due for a new replacement high efficiency furnace or air conditioner, others may simply need maintenance to keep everything operating as it should. In addition, installing ceiling fans and mounting a programmable thermostat in place of an older model can all help reduce your utility bills and keep you feeling more comfort-able at home.
Get Prepared to Stay Ahead of Unexpected Expenses:
Common monthly home maintenance to-do's include checking pipes for leaks, verifying air flow and temperature accuracy, changing furnace filters, checking fire alarms and carbon monoxide detectors, and cleaning gutters and walkways of debris. Annual maintenance should include HVAC maintenance, checking window and door seals, verifying fence and deck integrity, updating lighting indoors and out, and land-scape maintenance such as trimming trees.
And don't forget your home's interior! There is nothing that improves and maintains the overall appearance of your home like having clean floors, carpets and upholstery. Having your carpet, tile, wood floors, and upholstered furniture profession-ally cleaned will not only enhance the beauty of your home, but also lengthen the life of your flooring and furniture. This is good for your wallet and more importantly good for the health of your family!
For most people, their home is their biggest investment. A proactive approach to maintenance and repairs helps protect this investment and provides peace of mind. Con-sider keeping a monthly and annual checklist of maintenance to-do's and schedule any cleaning services and repairs as soon as possible.
For more information, questions or to schedule your next cleaning service, call Clean Pro Cleaning & Restoration. We are always happy to help!

For further information about carpet, floor and rug cleaning as well as restoration services, call Clean Pro Cleaning & Restoration on the Southshore at (504) 443-0009; on the Northshore at (985) 674-7778; on the Westbank at (504) 394-1116; in Baton Rouge at (225) 389-0202; or toll-free at (800) 377-9597. Email inquiries to service@cleanprocarpet.com.
Follow us on social media!